Window Rubber Seal Strip,Rubber Seal Strip,Window Rubber Seal Strip manufacturer
Name: Window Rubber Seal Strip
Material: EPDM, or according to customer requirements and purpose
Color: Black, white, brown or according to customer requirements and purpose

Dimension:
As shown in the dimension pictures
Or according to customer requirements
Function:
Due to the excellent mechanical properties, these profiles are used between the window and the main body and in similar other applications. The window rubber is suitable for providing better grips to the window glasses. It is also suitable for making a seal around glass in Aluminium window channels.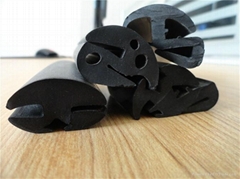 Function
sealing of door and window or other frame;
Protect room against sound, wind, smoke weather, light even dust.
Color
White Transparent, Blue Transparent, Black or as per customers' need
Advantages
1. Easily assembling with smooth suface, and without gap when fitted together;
2. High intensity,corrode-resisting,aging-resisting;
3. Fire, water and antibiotic preventing, healthy and environmental;
Remark
Many size and shapes can be produced according to customers' needs

Window Rubber Seal Strip,Rubber Seal Strip,Window Rubber Seal Strip manufacturer
Advantage:
1. Good anti-friction, anti-aging, anti-corrosion effect.
2. Weather proof, vandal proof, and can be shaped, molded, painted and screen printed.
3. Non-corrosive, non-toxic and chemical resistant.
4. Soft with high impact strength.
Production Category:
Rubber Extrusions (or Rubber Seal)
Window Rubbers (or Window Seal)
Rubber Edging Strip
Silicone Extrusions
Door Seal Strip (or Door Seal)
Spiral Sleeve
Automotive Seal
Ship Seal
Container Seal
Cabinet Seal
Electrical Seal
Glass Curtain Wall Rubber Seal
Fire Door Seal