Electrical cabinet door seal strip,rubber door seals,rubber edge trim strip

Electrical cabinet door gasket seal
1.Best quality,price,service
2.Swift delivery
3.OEM Factory
4.Customized
Trim edge can cover exposed sharp edges on most materials.
Pinchlwed provide an easy, clean and neat finish to cover exposed sharp edges,like metal,fiberglass, glass, plastic and plywood edges.Helps in replacing worn, damaged or faded trim on door openings as well as panel edges on cars, tractors and boats.
1.) Type:
1.PVC + Sheet metal/steel protective edge trim seal !
2.PVC + Sheet metal/steel + Sponge/Foam EPDM bulb pinchweld !
First Extruded and then glued forming !
3.Solid EPDM + Sheet metal/steel + Sponge/Foam EPDM bulb pinchweld !
with Foam EPDM bulb on top or side. Extrud and forming in one step !
4.Solid EPDM + Sheet metal/steel +Solid EPDM bulb pinchweld !
Special available:Different color,different matte finish surface,different size.
2.) Features:
Easy install and remove.
Flexible core bend,retain shape.
Heat,UV,Ozone and wear-resistant;Dust,water and weather proof,
Anti aging and compressive
Durable,elegant and good sealing performance.
3.) Applications:
widely used for all kinds of Electrical Cabinet,Auto,truck,car,vehicle and ship door and window sealing system.The pinchwelds can avoid dust,watere,air leak inside the cabinet system,which could protect the machine or parts to be healthy and working well.
4.)Standard:
1. B1986-87 Passenger train windows and doors use packing inspection procedure
2. HG/T 3088-1987 Vehicles Windows and Door s Rubber Packing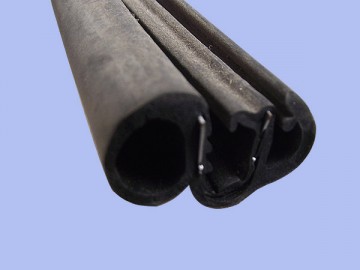 Specification of rubber seals

name

equipment rubber seals

Material

TPV,TPE,EPDM dense and foam ,silicone ,pvc

material brand

DOW,DSM,LANXESS,MITSUI

size/shape

any size and can be customized

hardness

A shore soft 15-35, A shore hard 55-80

certification

ISO 9001:2000

color

black ,white ,brown,yellow

technology

Extrusion

Application:

car ,auto ,equipment,door and window

MOQ

To be confirmed.

OEM

OEM is welcomed

Details

Different material has different performance,

we can manufacture at customers' requirements

Factory history

20 years

Strong point

We have our own mold center, can develop

most kinds of high tech required molds.