rubber edge trim
1.Excellent mechanical strength
2.Resistance to high ozone
3.Resistance to weather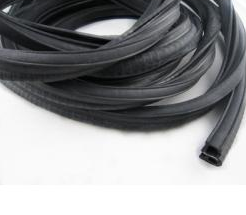 flexible rubber edge trim
1) Material: neoprene
2) Durometer: 50-90 shore A
3) Different shapes can be made
4) Other specification can be made according to requests
5) Widely used in the section of curtainwall, automobile, window doors, and furniture…etc.
6) Temperature Range:from -40 to 150 degree
7) It is wearable.
8) a good materail for chemical resistance
9) The specification, packing requirement and the color can be customized according to customer drawings or samples


rubber edge trim
1.rubber seal strip
2.EPDM seal strip
3.rubber profile for door and window
4.sealing strip,pu sealant
Auto seal strips:
We provide many kinds of rubber profile:
rubber sealing strip
solid rubber seal
sponge rubber seal
co-extruded rubber seal
rubber seal with metal insertion
rubber seal with adhesive tape
rubber seal for car
glazing rubber seal
weather strip seal
Color
Black, red, grey etc.
Hardness: 40-85 shore A
Shapes: according to customer's design, such as rubber tube, rubber cord, door and window seals, weather seal strip, U channel, silicone seal strip, NBR rubber seal etc.
Features:
Excellent chemical and physical property, high/low temperature-resistant, wearing resistant, oil-resistant, dust resistant etc.
Function:
Rubber seal could stop air, water and dust enter the machine system, which could protect the machine or parts to be healthy and working well.
Application:
Railcars, automobile, steamboat, industrial electrical equipment, building door & window, construction machinery, construction bridge and tunnel etc.
automotive: door, truck, truck crap, window seals spacers for wheel wells, window weather striping

building products: curtain wall frames, OEM window seals, door seals slider door seals, tract and channel seals

window and door: various door seals, edge guards, egress window frames, garage door seals.

containers: drums, barrels, safes and case seals.
Advantages:
Compared with the traditional wooden, steel and aluminum profiles, rubber profiles have the following strong points:
good endurance

fine air proof. This means that it can save 10% of energy.

it can effectively reduce the noise outside compares to the traditional ones.

rubber profiles are easy to process, and can save time and labor.

some profiles are push-and-pull type

high elasticity material

it is convenient to store and easy to install,

this product is good looking

available in various colors.

high precision & low tolerance

good shape finishing