door weather seal strip,weather strip ,rubber weather strip
weather seal strip
weather stripping,weather strip manufacturer
High performance rubber weather strip,water seal rubber strip
EPDM seal strip main feature are excellent ozone resistance, and the erosion resistance ability. its's insulation property is very good. our weather seal strip is widely used in many industry field such as auto door seals and windows, weather strip, rubber sealstrip for door and window in building industry and many of our weather strips used on mechanical.

Now the EPDM rubbers is the most popular rubber material for the extruded rofiles. EPDM rubber profile are including solid Extrusion & Foam Extrusions, solid and flocking extruded seals, Rubber or plastic strips,wire composite rubber extrusion, rubber extrusion with steel inside etc.

>firstly ,Weather seal strip application: the rubber seal strips are widely used in various kinds of industry,such as the car door doors and windows, some machine and construction industry. rubber seals strip can working during from -40 to 260 centigrade.

> secend,our rubber seal product function: the rubber seal strips can stop air, dust & water enter into the machine system, the seals can protect the machine or to be healthy and working well.

> our rubber seal product's advantage: our product have strong flexibility and anti-aging capability. Our rubber strips is more flexible than PVC seal.

> we can supply kinds of rubber seal strips: such as solid and dense rubber seal strip, sponge and foam rubber seal strips, the composite rubber seal strips.

> Our product's technology process: extruded,extrusion
following are our quality control department test report result.

Property

NBR

EPDM

Silicone

Advantage

1.Mechanical oil resistant

2. cheap price

1.Acid, alkali resistant

2.steam resistant

1. have the widest temperature range

2. good insulation property
Rubber seal strip specifications:
| | | | | | | | |
| --- | --- | --- | --- | --- | --- | --- | --- |
| Item | NR | SBR | NBR | Neoprene | Silicone | Viton | EPDM |
| Hardness(shore A) | 40-85 | 45-85 | 10-85 | 50-80 | 20-70 | 70-80 | 40-85 |
| Tense strength(Mpa) | 3-20 | 2-10 | 3-20 | 3-10 | 6-10 | 6-8 | 3-15 |
| Elongation(%) | 200-650 | 200-450 | 200-500 | 200-500 | 200-700 | 100 | 200-500 |
| Specific gravity | 1.1-1.6 | 1.4-1.7 | 1.1-1.6 | 1.3-1.7 | 1.2-1.4 | 1.9 | 1.4-1.6 |
| Termperature | -75~90 | -60~100 | -50~120 | -50~120 | -60~250 | -50~300 | -60~150 |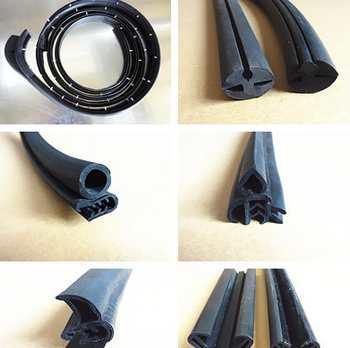 Products name

Weather strip/Foamed EPDM products

Number

Test item

Standard request

result

conclusion

weather seal strip


specifications

1

Appearance

Qualified for test

2

Test item

Unit

Standard

Result

Qualified

3

Depending on the density

g/cm3

0.65±0.15

0.6

4

Tensile Strength

MPA

≥2.5

2.8

5

Elongation

%

100-400

338

6

Tensile Strength

%

≥-15

-13

Elongation

%

≥-25

-19

7

Ozone-resisting(tear 20%,40℃/72h)

-

No cracking

No cracking

8

Brittleness Temperature

℃

≤-35

-38

Conclusion

Qualified